About Conference
Dermatology and Cosmetology 2022 is going to be a fantastic conference that brings together a diverse international blend of businesses or sectors, top universities, and academic institutions. This meeting will be an ideal forum for knowledge sharing between business and academia and for evaluating cutting-edge dermatology and cosmetology technologies across the globe.
The main theme of the Conference "Era of Dermatology and Cosmetology's Grow beautifully in your own unique way".
The two-day conference offers the chance to attend a fantastic keynote presentation conducted by the top dermatologists in addition to superb symposiums and workshops lead by seasoned business professionals. It will also be a fantastic opportunity for employees of universities and other organisations to collaborate with foreign scholars, as well as for businesses looking to expand their global market presence.
Conference Benefits:
Eminent Keynote talk,

The Networking panel discussion,

Business-to-business meeting,

Team building with the new contacts,

Get to know your academic idols.

Participate in high-level debates to improve your ideas.

Increasing the value of your CV.

To broaden your horizons and discover solutions to problems.

To share your thoughts and work with other
Target Audience:
· Dermatologists.
· Cosmetic Dermatologists.
· Researchers.
· Pathologists.
· Estheticians.
· Enrolled Dermatologists and Cosmetologists.
· Beauticians and Spa professionals.
· Cosmetics companies and Clinics.
· Advertising& Product Companies
· Pharmaceutical Companies.
· Member of Association & Societies.
· Dermatology Faculty.
· Surgeons.
· Training Institutes of skin and body care.
· Professors and Students.
We sincerely believe that Dermatology Summit2022 will act as a global platform for bringing scholars from all over the world together, where specialists will cooperate and generate new opportunities, including the establishment of new alliances.
Welcome Message
It is my great pleasure to summon you to the "9th Global Summit on Dermatology and Cosmetology" which will be held in Dubai , UAE on April 13-15, 2023.
This conference covers all aspects of dermatology and Cosmetology to bring together the best scientists around the world, helping you to learn from and meet others at the cutting edge of the field, all while being held in a pleasant venue.
Although there is a lot of hope and improvement in the field of Dermatology and Cosmetology these days, both in terms of care and cure, the focus of this year's meeting is "Era of Dermatology and Cosmetology's Grow beautifully in your own unique way".
It would be an honor to participate with doctors, nurses, health professionals, scientists, and academics from all over the world. It is an interactive two-day meeting focusing on creativity and emerging trends for the various cosmetic surgeries, keynote presentations by senior scientists and industry leaders, panel discussions, poster contests, and the young researchers' forum.
I genuinely hope that it will deliberate on many issues that have to be resolved as demand increases and will develop recommendations that will contribute to a sustainable increase in production without leaving its environmental footprint.
Regards,
Olivia Martin |Program Co-Ordinator,
E: dermatology@aacseries.com
T: +44 20 3769 1778 | W: +44 7418 603803
Sessions & Tracks
Session 1 - Dermatology
Dermatology distinguishes between the studies of the skin, hair, and nails. Dermatologists assess and monitor patients who are experiencing severe, life-threatening seizures on the outside of the body. Clinical dermatology is the promotion of medications for the full spectrum of skin, hair, and nail diseases. Extracorporeal photopheresis is one of the various therapies for dermatological issues offered by therapeutic dermatology. It is used to prevent cutaneous immune system lymphomas such mycosis and seizures.
The dermatology pathologists.

Surgical Dermatology.

Paediatric dermatology.

Immunohematology.

Cosmetic dermatology.

Photographic medicine (Phototherapy & Photopheresis).

Dermatology for medical purposes.

Cutaneous lymphoma.
Related: dermatology | dermatological | Surgical Dermatology | skins
Session 2 - Cosmetic surgery
A medical specialty called cosmetic surgery focuses on surgical and medicinal techniques to enhance both health and attractiveness. Cosmetic surgery can be performed on any part of the body, including the head, neck, and face. Because the area treated performs well but is not aesthetically pleasing, cosmetic surgery is not required. Botox, dermabrasion, face elevation, rhino plastic procedures, lead thermoplastic procedures, and facial fillers are all components of cosmetic surgery.
Dermatological fillers.

Peels made of chemicals.
Liposuction.

Facelifts and other cosmetic procedures.

Breast augmentation surgery.
Related: Cosmetic surgery | surgery | dermatology | thermoplastic | skins
Session 3 - Surgical Dermatology
Dermatological surgery handles, for example, the assessment and management of medicinal and restaurant conditions. For instance, dermatological surgery handles the diagnosis and treatment of medical and restaurant diseases. Skin cancers, unusual moles, sores, lipomas, and other hazardous or symptomatic developments will be operably expelled in an out-patient setting without the need for general anaesthesia. Moles, skins, and other undesirable blemishes, for instance, might only need to be removed for cosmetic skin improvement.
Liposuction performed under local anaesthetic.
Skin rejuvenation and laser skin resurfacing.
Related: Surgical Dermatology | dermatological surgery | skins | surgery | dermatology
Session 4 - Dermatopathology
Dermatopathology is an ingredient of dermatology and pathology research and focuses on the minuscule and atomic diagnosis of the skin condition. A component of dermatology and pathology study, dermatology pathology focuses on the microscopic and atomic diagnosis of skin conditions. It also includes preliminary research on the aetiology of skin conditions. Professional dermatologists and dermatopathologists work together to clarify the therapeutic process and bring the cause aspect of the condition to the dermatopathologist's notice.
Dermatological pathology.
Inflammatory skin conditions.
Lesions that are neoplastic.
Related: Dermatopathology | dermatology | Professional dermatologists and dermatopathologists | skins
Session 5 - Veterinary dermatology
Diagnosis and care of animal skin, ear, fur, nail, hoof, or mouth conditions are addressed in veterinary dermatology. Veterinarian dermatology deals with the diagnosis and treatment of problems affecting an animal's skin, ears, fur, nails, hooves, or mouth. Particularly veterinary dermatologists should become knowledgeable in the management of allergic skin diseases. Other specialised diagnostic techniques include serological allergy monitoring and intradermal allergy testing.
Skin allergies are a condition.
Environmental sensitivities.
Bite marks left by parasites.
Autoimmune skin condition.
Sensitivities or allergies to certain foods.
Related: Veterinary dermatology | dermatology | skins | surgery | veterinary dermatologists
Session 6 - Dermot-Oncology
The primary area of study in the dermatology branch is dermato-oncology, which focuses on three topics: cutaneous lymphoma, particularly in organ transplant recipients, melanoma, and carcinoma of the keratinocyte. Dermatology is regarded as a tertiary point of reference for any of the three patient meetings. To address the dual requirements of a patient meeting, specifically: ensuring ideal treatment (including enrolment in clinical trials) and the purposeful gathering of clinical evidence and patient examples, dedicated facilities have been built. Physicians and basic researchers collaborate on significant, translational, and clinical research projects.
Cancer of the basal cell.
Cancer of the squamous cell.
Related: dermato-oncology | Dermatology | skins | surgery | Dermatopathology
Session 7 - Plastic and Reconstructive surgery
The goal of plastic and reconstructive surgery is to improve a person's body function by repairing it. It covers a wide range of situations. It is used to reconstruct the head and neck after cancer surgery and to reconstruct faces after injuries. The procedure's primary characteristic is that it aims to normalise the body's anatomy or functionality. At the cosmetic meeting, topics such as breast augmentation, reduction and lifting, skin cancer removal, burn removal, scar evaluation, and hand surgery will be covered.
Expansion of the Tissue.

The removal of skin cancer.

Surgery on the hands or feet.

The otoplasty.
Related: Plastic and Reconstructive surgery | cosmetic | surgery | Dermatology | skins
Session 8 - Mohs Surgery
Mohs Surgery has the best recovery potential, an innovative procedure for skin cancer therapy. The most effective treatment for skin cancer is Mohs surgery, which is a cutting-edge technique. It is dependent on a microscope's precise tracking and removal of skin cancer at its source. With the use of this method, dermatologists with training in Mohs surgery may accurately detect the entire tumour and remove it while sparing surrounding good tissue. This method is frequently used to treat basal cell carcinoma and squamous cell carcinoma, two different types of skin disorders. The most precise tumour removal technique has the highest cure rate of all skin cancer treatments, lowers the risk of tumour replenishment, and raises the possibility of cure rather than defect.
Treatment, diagnosis, and prevention.
Skin cancer that is not melanoma.
It's called pathophysiology.
Squamous cell carcinoma and otoplasty.
The process of cry lipolysis.
Related: skin cancer is Mohs surgery | Mohs surgery | dermatologists | skin | surgery
Session 9 - Paediatric Dermatology
Paediatric dermatologists are experts at identifying infant skin conditions and providing appropriate treatment, including cautious paediatric management. Medically and/or surgically, they treat skin conditions like warts and other skin problems. There are other physiological abnormalities in children that may not exist in adults, such as the growth of the child's blood vessel. Children can experience unique symptoms under common illnesses, such as psoriasis.
Disorders of the collagen vascular system.
Acute acne-like outbreaks.
Pigmented and vascular birthmarks.
Related: Paediatric Dermatology | paediatric | skin | physiological abnormalities | psoriasis
Session 10 - Aesthetic Medicine
Treatment of disorders like scars, skin laxity, wrinkles, liver spots, excess fat, cellulite, hair, skin pigmentation, and spider veins are all included under the umbrella term of aesthetic medicine. Dermatology, cosmetic surgery, and reconstructive surgery are all typically covered under aesthetic medicine. Treatment for aesthetic medicine includes both surgical (skin tightening, face liposuction, breast implants, and radiation frequency ablation) and non-surgical techniques (radio skin tightening frequency, non-surgical liposuction, chemical peel). Although aesthetic procedures are typically voluntary, they may have a significant positive impact on social interaction, psychological well-being, and quality of life.
· Cellulite reduction and body contouring.
· The process of photo rejuvenation.
· Fat grafting and platelet-rich plasma
· Threads for contouring.
· Cellulite reduction measures.
· The injection of dermal fillers and neurotoxins.
· The microdermabrasion procedure.
· Gynaecology for cosmetic purposes.
· Laser therapy for stretch marks and scarring.
Related: aesthetic medicine | surgical | psychological | Dermatology, cosmetic surgery | skin
Session 11 - Wound Healing
The post-trauma replacement mechanism for damaged and deformed tissues is wound healing, which is fluid and variable. One area where progress has been made is wound care. Nearly a million people in the US are predicted to have lasting injuries, with significant economic and psychosocial implications. This implies that the developing issue must be addressed. Wound management, skin substitutes, biodiversity, clothes, scare-free treatments, and wound dressing will all be present at this conference highlight.
Related: wound healing | Dermatology, cosmetic surgery | skin | conference highlight. | economic and psychosocial
Session 12 - Neonatology &Perinatology
Paediatrics is hospital-related teaching, with the Neonatology section playing a significant role in paediatric disorders and the medical status of babies and infants. This is mostly possible in intensive care units for new born. The paediatric perinatology, which deals with the embryo and connected health issues during incubation as observed in paediatric neonatology, is a crucial element.
· Disorders of the Neonatal Period.
· Unit for Neonatal Intensive Care.
· Neonates and Epilepsy.
· Neurology of the new born.
· Neonatal Respiratory Conditions.
Related: paediatric perinatology | paediatric neonatology | Neonatology | Neonatology &Perinatology | skin
Session 13 - Skin Conditions and Diseases
Skin and cutaneous system disorders are also known as SSTIs, skin and related fragile tissue contamination. Contamination may involve additional sensitive tissue or require significant surgical intervention such as infected ulcers, infections, true abscesses, or significant underlying conditions that impair response to treatment.
· Psoriasis.
· Acne.
· Bladder.
· Urticaria.
· Herpes labialis.
Related: skin and related fragile tissue contamination.| cosmetic | surgery | Dermatology | skins
Session 14 - Dermatology Diseases
Numerous skin conditions affect people. To identify, treat, and prevent skin conditions, people should work closely with a dermatologist. It divides the two categories of requirements permanent and transitory.
persistent and long-lasting conditions Skin surface symptoms of seborrheic dermatitis include reddish, swollen, and white to grey skin. Eczema rashes that permanently result in severely dry, itchy skin may encompass more body parts. Warts, a fungal nail infection, hives, and acne Athlete's foot is a transient illness.
The causes, care, and avoidance of skin conditions.
Related: Dermatology Diseases | dermatologist. | dermatitis | skin | surgery | Dermatology
Hair transplant surgery is a popular form of hair loss therapy that results in a secure, natural-looking hair appearance. It is a technique in which hair follicles are removed from a donor area of the body and transplanted to a bald or shallow area of the body. There are two popular hair transplant treatments. FUE (follicular unit extraction) is the initial procedure, followed by FUT (Follicular Unit Transplantation). The main difference between procedures is how the donor area's hair follicles are removed. FUT uses follicular units, which are hair groupings on the scalp that commonly have 1, 2, 3, or 4 hairs. The second method is FUE hair transplantation. The follicular unit being extracted. Cutting the hair follicles with a little instrument or a mechanical system result in the actual follicular unit joining with the rear of the head one at a time.
· Care for your hair.
· Issues with hair texture.
· Problems with the scalp.
· Hair Loss and Scarring Alopecia.
· A pattern of baldness.
· Hair Falling Out.
· Dandruff and hair loss.
Related: Trichology| skin | surgery | FUE (follicular unit extraction) | skin
Session 16 - Skin Pigmentation
The issue of Skin Pigmentation affects the colour of your skin. Melanin is a pigment that gives skin its colour. Specialized skin cells are used to make melanin. The formation of melanin is impacted by poor cell outcomes or injuries. Any pigmentation issues only have an impact on skin repairs. Others have an impact on the body as a whole. A man with albinism might not lack any lightness, hue, or skin tone. Infection, rank, and overconsumption can also contribute to lighter skin.
Hyperpigmentation after inflammation.
Pigment Alterations Due to Skin Damage.
Related: Skin Pigmentation | pigmentation | skin | surgery | Dermatology
Session 17 - Immune system diseases
The skin is emphasised in immunohematology as an organ of health and immunity to infection. The field of immunohematology investigates the skin as an organ with a built-in immune system for both health and disease. A particular focus is placed on several fields, including photo immunology's (effects of UV light on skin protection), inflammatory conditions like hidradenitis, suppurativa, dermatitis or allergic touch, and atopic eczema, possibly autoimmune skin conditions like vitiligo and psoriasis, and microbial skin diseases like retroviral infection and leprosy. The development of new treatments to immunomodulate common skin disorders is ongoing.
Allergic contact dermatitis.
Related: Immune system diseases | immunohematology | immunomodulate | skin | surgery | Dermatology
Session18 - Aging science
The science of aging is a term that refers specifically to humans, certain
species, and fungi, but bacteria, perennials, and some simple animals can
be immortal. Cellular senescence refers to the loss of species separation
Stem

cell

therapy.

Photoaging.

Molecular

repair.

Skin

rejuvenation.

Regenerative

medicine.

Gene

therapy.

metabolic aging.
Related: Aging science | science | bacteria, perennials, and some simple animals can
be immortal. | skin | surgery | Dermatology
Session19 -Atopicdermatitis
Atopic dermatitis (eczema) is a condition in which the skin becomes red and itchy. It is most common in children but can occur at any age. Atopic dermatitis (chronic) is long-lasting and sometimes relapsing. This may accompany asthma and hay fever. There is no known cure for atopic dermatitis. The back of the body, knees and elbows are usually very itchy in both children and adults. They may also have small bumps or loose skin. A rash can also occur on the ears, wrists, and forearms. Scratching can thicken, darken, and scar the skin. night-time itching at bedtime is usually worse. Scratch wounds can also become infected. You will see red bumps bruised and filled with pus. In such cases, be sure to see a doctor. However, therapy and self-care can help relieve itching and prevent new break outs. For example, avoiding harsh soaps, moisturizing the skin regularly, and using medicated creams and ointments can help.
Related: Atopic dermatitis | skin. | dermatitis. | surgery | Dermatology | Atopicdermatitis
Session 20 - Cosmeceuticals
This expression comes from the term's "cosmetics" and "pharmaceuticals". Cosmeceuticals are skin care substances containing bioactive compounds that have a medicinal effect on the skin. Cosmetics are cosmetics that are said to have medicinal properties. There are numerous whitening products on the market, each claiming to be the most effective. You are at the crossroads between health and fashion, and everyone seems to appreciate the benefits. The platform explores anti-aging cosmetics, hair cosmetics, facial cosmetics and wound healing cosmetics.
Exfoliants

-

hydroxy

acids.
Related: Cosmeceuticals | skin. | dermatitis. | surgery | Dermatology
Session 21 - Skin Care Therapies
The skin is the organ most exposed to the outside world and serves as the first line of defence against chemical and microbial threats. It has a highly variable individual microbiological environment. Maintaining and improving skin health and integrity is an important goal in both acute and long-term care. It is widely recognized that skin health is important. Skin personal care products are widely used, but their impact on the molecular and microbiological diversity of the skin is unknown and uncertain. It is an important aspect of cosmetic dermatology, and scientists are working to develop new methods and materials to achieve this goal.
Related: Skin Care Therapies | skin | cosmetic dermatology | dermatitis. | surgery | Dermatology
Market Analysis
Dermatology is a medical field that deals with the diagnosis, prevention, and treatment of various skin, nail, and hair-related diseases such as pigmentation, acne, wrinkles, and psoriasis. Dermatological agents, also referred to as dermatologic, are products that are applied topically to the skin. The UAE Dermatology Treatment Drugs Market Analysis size stood at around USD xx% billion in 2020 and is projected to reach USD xx billion by 2028, exhibiting a CAGR of 7% during the forecast period.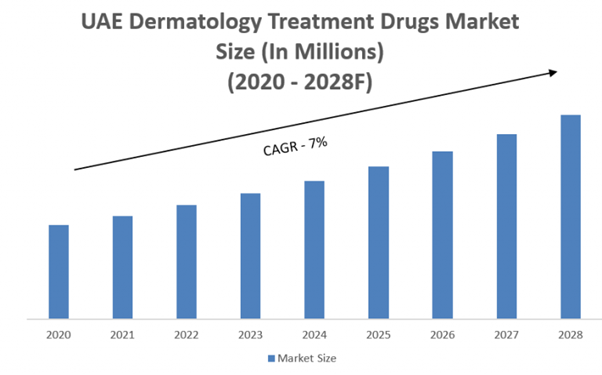 · Facilitate decision-making based on strong current and forecast data for UAE Dermatology Treatment Drugs Market Analysis.
· Analyse competitive developments such as expansions, investments, mergers & acquisitions, new product developments, and research & developments in the UAE Dermatology Treatment Drugs Market Analysis.
Growth in the dermatology market is expected to accelerate in coming years due to a confluence of factors including an aging population, rising disposable incomes and increased health insurance coverage. Due to positive outlook and unmet demand, the industry has undergone impressive growth and consolidation, largely driven by private equity. The market is currently characterized by high fragmentation, growing volumes and high multiples. The dermatology market is largely separated into three different sections; Mohs, cosmetic and general surgery. Of these, general dermatology is the largest segment by revenue as it encloses the greatest variety of diseases and treatments.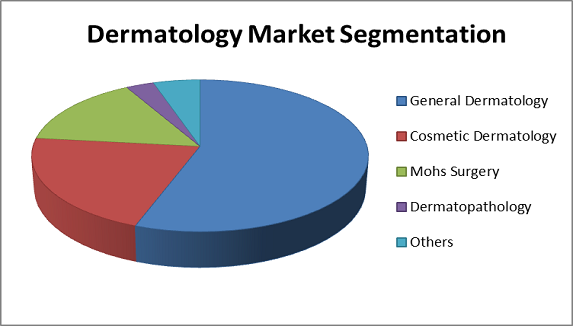 The size of the global dermatology devices market will increase USD 1.17 billion between 2017-2022, accelerating at a CAGR of almost 7% during the forecast period. This growth in market size will be attributed to numerous factors including rising non-refundable incomes, an aging population, increased health insurance coverage, and the growing need for early diagnosis of Cosmological conditions.