Past Conference Report
Dermatology Summit 2019
AAC organized Global Summit on Dermatology and Cosmetology 2019 on September 09-10, 2019 at Holiday Inn Edinburgh, UK. We received active participation and generous response from organizing committee members and other enlightened minds who made this conference as one of the most productive events in 2019 from AAC. Dermatology Summit 2019 was well accomplished. It would not have been possible without the Organizing Committee, the speakers, the moderator, the participants, Holiday Inn Edinburgh staff members, media partners and everyone who strived to make this possible. Cheers to new acquaintances and innovations.

The Mayor of Edinburgh –
Rt Hon Lord Provost Frank Ross
graced the gathering with his welcome note. The speakers had a memorable opportunity to get clicked with him. The proceedings went through interactive sessions and panel discussions headed by our honourable moderator Dr. Dominika Bielinska-Warezak.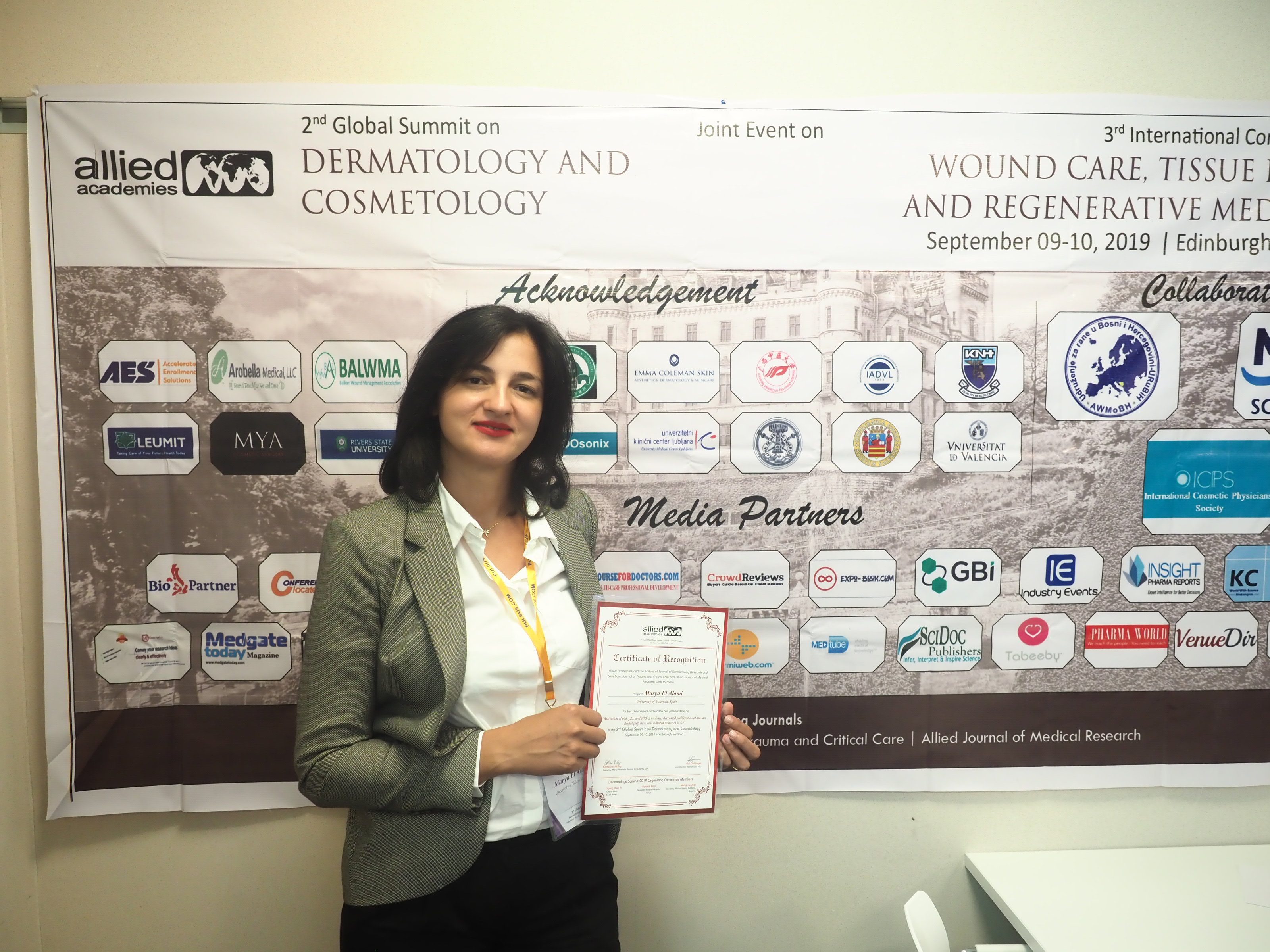 The discussions were held on the following major scientific tracks:
· Clinical Dermatology
· Cosmetic Dermatology
· Cosmetic Surgery
· Pediatric Dermatology
· Wound Healing
· Anti-Aging Sciences
Welcome Message
Who We Are
Allied Academies is a non-profit organization that hosts interdisciplinary international self-funded conferences on cutting-edge basic and applied research in life sciences, medicine, healthcare and nursing delivered by the best talents in industry and academia. Founded in 1996, the mission of

Allied Academies

is to gather the Researchers, principal investigators, experts and researchers working under academia and health care industry, business delegates, scientists and students across the globe to provide an international forum for the dissemination of research results, new ideas and to build a network between people of the same profession.


About Dermatology Summit 2021
5th Global Summit on

Dermatology

and

Cosmetology

, condensed as Dermatology Summit 2021, is a two-day gathering of world-renowned

dermatologists

,

aestheticians

, researchers, cosmetic surgeons and experts in the industry of dermatology and cosmetology on March 08-09, 2021 on London, UK. The theme of this meeting is "Enhancing and Embracing the Innovative Approaches and Best Practices" and the highlights of the conference are Clinical Dermatology, Dermatopathology, Pediatric Dermatology, Wound Healing, Cosmetic Dermatology, Cosmetic Surgery, Cosmetic Trichology, Cosmetic Dentistry, General Cosmetology

,

Cosmeceuticals

, Anti-aging Sciences, Laser Treatment, Stem Cells in Dermatology and Cosmetology, Case Studies and Reports, Cosmetics: Company to Consumer and

Cosmetics

: Advantages and Disadvantages.


Significance and Scope
The main objective of the

Dermatology Summit 2021 is to spread scientific and medicinal researches and ideas about skin-related problems which include hair and nail diseases, in the world and get better ideas about it. We promote conferences such as Dermatology Summit 2021 to globalize the need for awareness about skin conditions through international decisions and discussions which will create extraordinary solutions for the existing health problems related to skin, nail, and hair. Dermatology Summit 2021 also gives exciting business opportunities for the new market in the healthcare sector also promote advanced devices and tool which can be used to reduce the disease occurrence in the world. Dermatological conditions are of different forms which make the need for medication a lot more presently. Thus this conference Dermatology Summit 2021 will provide a great opportunity to deliberate all the important strategies and ongoing researches to reduce skin diseases all over the world.


International Networking
Dermatology

and

Cosmetology

are vast topics and people are focusing on getting new ideas and development on the current methods to improvise the medications for derma conditions. This is the most incredible chance to achieve the international union of great individuals from different countries who are experts in dermatology and

cosmetology

and we provide the platform to discuss the researches and innovations with intelligent minds through breakout sessions.


Dermatology Summit

2021

will have experts from different fields, doctors, dietitians, nurses, physicians, pharmacists, academic researchers, and other healthcare professionals. They discuss derma related diseases and their complications, consequences, emerging techniques, and precautions. Also about the advanced technologies which help to improve the skin composition.
Keynote speakers and Session speakers
Young Research Forum (YRF)
Delegates
The platform and arrangements to organize symposia and workshops
Research findings and proposals
Exhibition of innovative products and devices related to the
Dermatology Summit

2021
Why London, UK?
London, among the oldest of the world's marvelous cities, is the capital of the United Kingdom. This cosmopolitan city is also the country's cultural center. London has the exciting and diverse attractions, activities and best sights. Besides beauty, London is the foremost technologically advanced city in the world. Moreover being a busy tech hub, major tech expos and international conferences are a routine event in London.

Dermatology and Cosmetology industries are getting wider in London due to its extensive opportunities and career. There are limitless techniques and procedures under the dermatology field to make life easier when it comes to skin, nail, and hair. As we know, most of the London residents are conscious about the appearance, the city has a high potential and growth in the field. British capital city is a vibrant art and entertainment center also offers one of the planet's greatest concentrations of cultural attractions. We also offer you a chance to explore the stunning view of the city through the Dermatology Summit 2021.
Abstract Submission and Registration
For participating in the
Dermatology Summit 2021 you will have to submit the abstract of your research which comes under the sessions. Once the abstract is accepted by the organizing committee you can register for the conference.
For the submission of abstract: Abstract Submission Link
For Registration: Registration Link

Scientific Sessions
Session on: Cosmetic Dermatology
Cosmetic dermatology is a specialization in dermatology that addresses the aesthetic needs of people but excludes surgery. Dermatologists have been the figureheads in the field of cosmetic surgery. Many individuals are looking for ways to alter or improve their appearance through means of cosmetic dermatology.
Hence, the beauty industry is booming, and

cosmetic dermatology

is growing right along with it which is why it is important to stay up to the minute with current trends. This discussion will hold presentations and discussions on

Dermal Fillers

, Botox,

Chemical Peels

, Mesotherapy,

Scar,

and

Acne

Treatment, Electrotherapy, Facial Rejuvenation, Cellfina, IPL,

Sclerotherapy

, Skin Resurfacing, Thermage, and

Tattooing

.
Session on: Clinical Dermatology

Clinical Dermatology is a specialty of dermatology that covers a wide range of diseases, conditions, and treatment of hair, skin, and nails. Reports state about $400 million in lost productivity occurs because of skin-related issues each year. This session of Clinical Dermatology will discuss the comprehensive knowledge of dermatological disorders, their upcoming solutions and recent advancements in their research. Dermatology summit
2021 will range over Acne, Dandruff, Eczema, Psoriasis, Skin Cancer, Skin Infections, Skin rashes, and Surfeit Sweating.
Session on: Dermatopathology

Dermatopathology is a combination of both dermatology (the diagnosis and treatment of skin, hair and nail diseases) and pathology (exploration of diseases microscopically). In order to diagnosis a full developed disorder of the skin, hair or nail, the dermatologist must begin from the microscopic analysis of the tissue. Hence, dermatopathology plays a vital role in the scope of dermatology

. A dermato-pathologist performs various microscopic observations to detect the actual disease from the diagnostic assay specimens taken from the skin. This session will include discussion on: Benign and Malignant Tumours, Blistering Diseases, Bacterial and Protozoan Infections, Fungal Infections, Viral Infections, Techniques of Assays of Pathology.
Session on: Cosmetic Trichology

Cosmetic Trichology is a branch of trichology which deals with the cosmetic aspects of hair and scalp. Problems related to hair are one of the most-worried about concerns in the present generation owing to the lifestyle and changing environment. The topics discussed in this session will be Hair Transplantation, Hair Restoration, Hair Replacement, Trichoscopy, Male Pattern Baldness, Female Pattern Baldness, Follicular Unit Extraction, and Hair Care.
Session on: Pediatric Dermatology

Pediatric Dermatology is the evaluation and management of skin diseases which occur more commonly or exclusively in children including newborns and infants. Children have special needs when it comes to skin conditions and requires a different approach and expertise than adults. The focus of this section broadly covers diagnosis and treatment of children with Warts, Birthmarks, Hemangiomas, Newborn Rashes, Eczema, Genetic Defect, Skin Biopsies, Port-Wine Stains.
Session on: Cosmetic Dentistry

While traditional dentistry focuses on the health and functionality of the teeth and gums, cosmetic dentistry focuses on the appearance of teeth, gums, and smile. Gone are the days when only celebrities could cosmetic dentistry, it has now become mainstream. 22 million adult patients were seen in 2018 in UK. This is one of the fields which continuously evolving nature of the field has helped many boast their appearance and self-esteem. This track comprises of talks on Teeth Whitening, Dental Crown, Dental Implants, Dental Veneers, Bridging, Bonding, Reshaping and Gum Lifts.
Session on: Wound Healing

Wound Healing is a complex and dynamic process of replacing devitalized and deformed structures post-trauma. Wound healing is one of the fields witnessing massive advancements. In the USA, it is estimated that about 4.5 million people have chronic wounds, resulting in considerable economic and psychosocial costs. It is thus necessary to keep in step with the growing concern. This conference highlight will walk the attendees through Wound Care, Skin Substitutes, Bio-membranes, Scaffolds, Scare-free Healing, and Wound Dressing.
Session on: General Cosmetology

General Cosmetology involves the science of improving one's aesthetics through the non-medical treatment of skin, hair, and nails. The aesthetician evaluates skin condition and applies treatments after first discussing alternatives. Between 2016 and 2026, the U.S. Bureau of Labor Statistics expects employment in cosmetology careers to grow faster than the average for all professions. The focus of this sitting is on various aspects of Hair Styling, Shampoo Technology, Make-ups, Skin Care, Manicure, Pedicure, Eyebrow Treatments and Eyelash Treatments.
Session on: Cosmetic Surgery

Cosmetic Surgery is a discipline of plastic surgery whose principal purpose is altering the appearance over functionality. Between the years 2014 and 2015, 20 million aesthetic procedures were performed worldwide. Cosmetic surgery is also a reportedly major driver of medical tourism. It is one of the booming and most sought-after fields of surgery. The major surgeries performed in this category are Blepharoplasty, Otoplasty, Rhinoplasty, Breast Surgery, Buttock Surgery, Dermabrasion, Face Lift, Body Lift and Liposuction.
Session on: Cosmeceuticals

The term is a combination of 'Cosmetics' and "Pharmaceuticals". A cosmeceutical is a skincare product that comprises of a biologically active compound which is thought to have pharmaceutical effects on the skin. Cosmeceuticals are cosmetic products which are purported to have therapeutic properties. The cosmetic market is flooded with lightening products each claiming to have the best efficacy. They are at the juncture where wellness meets beauty and everyone seems to love such a benefit. The aspects discussed in this forum will be Anti-aging Cosmeceuticals, Hair Cosmeceuticals, Face Cosmeceuticals, Cosmeceuticals in Wound Healing.
Session on: Stem Cells in Dermatology and Cosmetology

The skin has several groups of stem cells present in its layers.

Cutaneous stem cells have been experimentally explored to demonstrate their potential and plasticity, besides being autologous cells, thereby avoiding complications such as graft versus-host disease. The exogenous application of stem cells for wound healing can be considered a promising solution because of their intrinsic capacity to self-renew and differentiate into various tissues necessary for wound healing. The session of the conference strives to unravel the potential diversity of stem cells for the best of dermatological and cosmetic applications. The features discussed here will be Stem Cells and Melanoma, Stem Cells in Wound Healing, Stem Cells in

Cosmetology

and Stem Cells in Anti-Aging Sciences.
Session on: Anti-Aging Sciences

Anti-aging science is an evolving branch of medical science and applied medicine that treats the underlying causes of aging and aims at diminishing any age-related malady. Aging is the deterioration of normal physiological functions of the body with time, often owed to changes in the genome of the cells, protein and cell degradation, decreasing telomere length, exhaustion of stem cells, increased cell senescence and decreased intercellular communication. The highlights of this assembly are Hormonal Therapies, Antioxidants, Telomere-Based Therapies, Vampire Facial and Anti-aging Medicine.
Session on: Laser Treatment

Lasers work in cosmetic applications through a process called "selective photothermolysis". It modulates the frequency of light to produce heat in the specific area of the corresponding thing you wish to destroy. For this, the wavelength of the light must be in sync with the colour of the target which is to be treated. Cosmetic laser surgery are pain-less and least invasive with providing significant results, and this factor drawn attention of the people. Cosmetic laser surgery has changed the dimension of the beauty world. This track will range over the use of laser treatment for Wrinkles, Skin Tightening, Pigmented Lesions, Vascular Lesions, Tattooing, Hair Removal and Acne Scars.
Session on: Case Studies and Reports

Case studies and reports will range over various case studies performed by surgeons, dermatologists and aestheticians. Each case study or a report has a contribution to make to the conference stage as they have the potential to ignite a new spark of innovation when steered in the right direction. The highlights of the session will be Cosmetics Case Studies, Dermatological Case Studies, Cosmetic Surgery Case Studies and Reports on Experiences of Cosmetic Surgery.
Session on: Company to Consumer

This assembly will address the eminences from various businesses like consulting service providers, product manufacturers and sales representatives who are attending the conference. This session aims to alleviate the gap between companies and consumers. They can reach over to the first-hand users of various cosmetics and dermatological products. Social media has completely changed the way many brands connect with their consumers. Cosmetics brands have shifted from a product-based model to an experience-based model. This platform will help beauty industries to reach out to the first-hand users of cosmetics. The particulars of this platform will be Dermatological Products, Cosmetic products
, Consulting Services, and Brand Story.
Session on: Cosmetics- Advantages and Disadvantages

Market Analysis
Dermatology
is a specialization that focuses on researching, diagnosing and maintaining the health of the skin, scalp, hair and nails. Skin is the largest organ of the body and unlike other organs, skin is functionally as well as aesthetically important. This is why
dermatology
and
cosmetology
go hand-in-hand and has been the largest industry in the market for years.
Dermatology is one industry that treats people of all ages. The American Academy of Dermatology (AAD) estimated that 1 in 3 people visit dermatologists and 1 in every 4 are affected with some form of skin disease every year. This has resulted in a growing need for effective dermatological techniques and devices. Strong desire among men and women to retain youthful appearances has groomed the cosmetics industry globally. The Indian cosmeceutical and cosmetics industry has an overall market standing of USD 6.5 billion from a global market of USD 274 billion. It is expected to grow to USD 20 billion by 2015 at a compounded rate of 25 percent.



The global

cosmetic products

market was valued at USD 532.43 billion in 2017, and is expected to reach a market value of USD 805.61 billion by 2023. This statistic shows the market size of the natural and organic

beauty industry

worldwide in 2016, with a forecast to 2024.

The UK

dermatology

devices market has been segmented on the basis of end-use into hospitals, clinics, and others. The hospitals segment held the largest market share in 2018 owing to greater demand for, and availability and usage of advanced

dermatological equipment

in hospital settings.
Globally, there were 20 million aesthetic procedures performed from 2014-2015.

Cosmetic surgery is a major driver of medical tourism. In the UK, there were 50,000 cosmetic surgery procedures performed in 2013-2014. Surgical aesthetic procedures account for 10% of the cosmetic procedures in the UK, and non-surgical techniques constitute the remaining 90%. This statistic shows the market value of cosmetics in Great Britain from 2010 to 2018.
Fund Allotment to Dermatology Research:

· National Institutes of Health (NIH) Medical Research Scholars Program (MRSP) allot $33,700.

· Doris Duke International Clinical Research Fellowship (ICRF) allots $29,000.

· Global Health Equity Scholars (GHES) Fellowship allots.

· Howard Hughes Medical Institute (HHMI) Medical Research Fellows Program allots $29,000.

· The CDC Experience Applied Epidemiology Fellowship.

· Melanoma Research Foundation (MRF) Medical Student Research Grant allots $3,000.

· American Skin Association (ASA) Medical Student Grant Targeting Melanoma allots $7,000 renewable for one year.

· American Academy of Dermatology (AAD) Diversity Mentorship Program allot $1500

· American Dermatological Association (ADA) Medical Student Fellowship allots $700 per month, up to 3 months.

Renowned Beauty Schools in UK

: Ray Cochrane Beauty School, oxford international college of beauty, The London School of Beauty & Make-Up, Kent Beauty School, London College of Beauty Therapy.

Renowned Dermatology Schools in UK

: Cardiff University, University of South Wales, Queen Mary Institute of London, University of Hertfordshire, University of Nottingham, King's College of London, University of Bradford.